Meet Calvin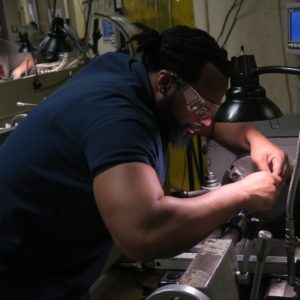 Having previously worked as a professional barber at his local shop, Calvin became aware of New Century Careers after seeing promotional material at one of the shops in his neighborhood.
Calvin originally came from Mississippi where his father would talk about the legacy of metal workers in his family, a topic that piqued his interest.
Upon completion of the M2K program, Calvin accepted a position at FormLogic. During his time as a trainee, he obtained five National Institute for Metalworking Skills (NIMS) credentials, completed nine NIMS projects, and achieved seventy metalworking skills.
His advice to younger generations who have not been exposed to the manufacturing industry, is that it along with other trades are just as important and needed today as they were decades ago.
Meet Quinn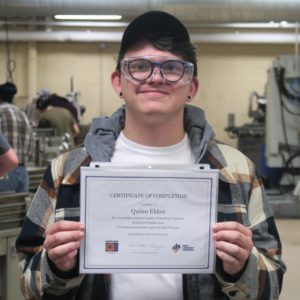 Coming from a background in customer service, Quinn has had an interest in machining since they were four years old! Ever since they saw a video of someone using a lathe to spin down a metal piece, they've wanted to own their very own machine and eventually start a their own shop.
During their time in the program, Quinn completed six National Institute for Metalworking Skills (NIMS) projects and earned three credentials. They founds the hands on training aspect of the M2K program to be very beneficial to their development, stating that being able to actually use the machines while learning all the different techniques to make parts was rather helpful.
Upon completing the program, Quinn will begin working Acme Stamping & Wire Forming. At this company they will serve as a maintenance machinists, maintaining machines that are over 100 years old in order to keep production going.
Meet Ishmael
Coming from a background in freelance construction, Ishmael heard of New Century Careers and became interested in pursuing a career in manufacturing. Upon learning that NCC was organizing an upcoming Robotics Technician Apprenticeship Program, he saw this as a great starting point to get into an industry of his interest.
Upon completion of the program, Ishmael has begun working at Formlogic.
During his time in the M2K program, Ishmael earned 9 National Institute for Metalworking Skills (NIMS) credentials along with a certificate of special merit! He found the variety of instructors to be very beneficial to his development as a machinist, feeling that learning from different instructors grants you more knowledge and angles of how to accomplish the task at hand.
His advice to anyone considering enrolling in M2K is that manufacturing isn't as intimidating as it seems, and to come in give it a try and take it one step at a time.
Meet Nizeer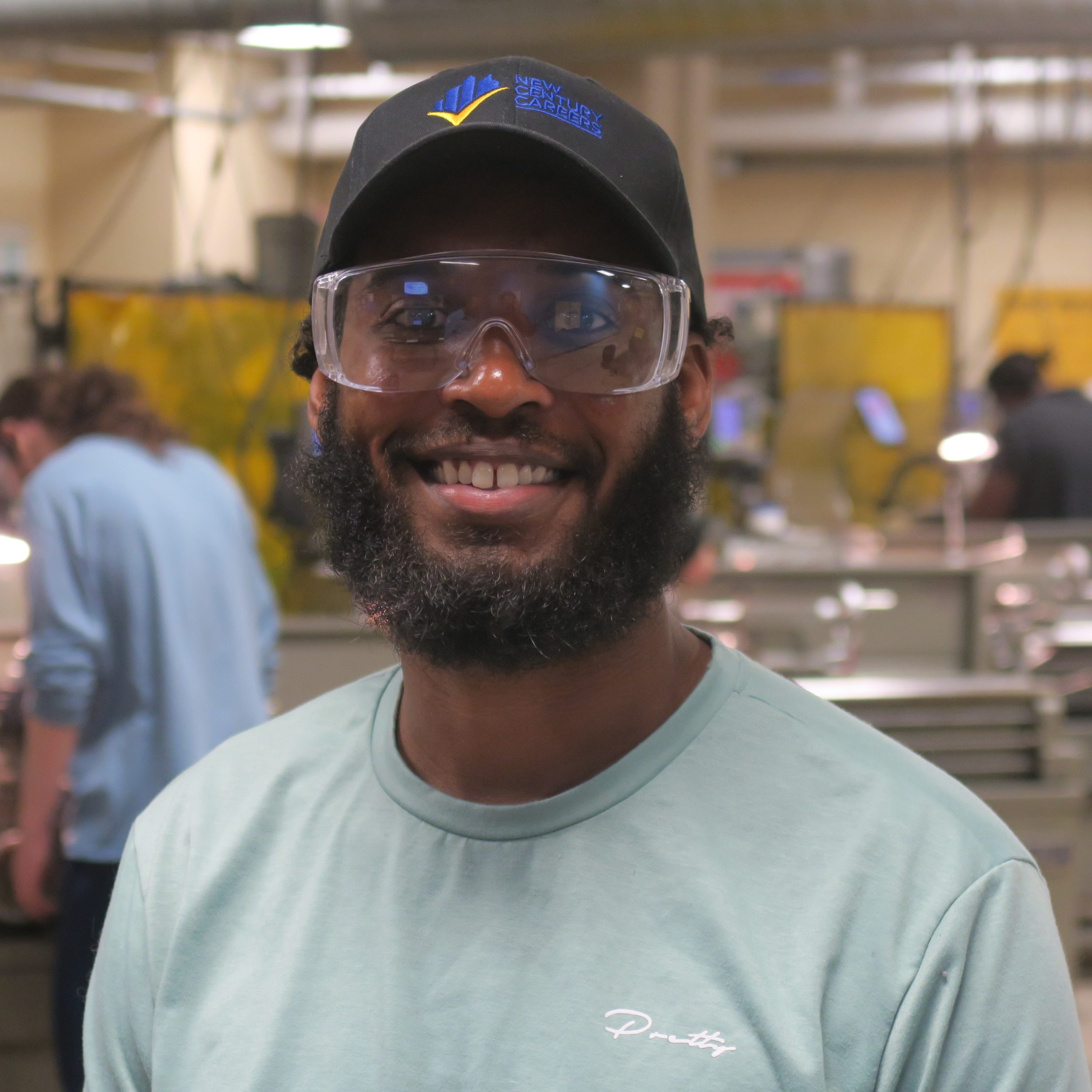 Prior to his enrollment in M2K, Nizeer worked at Walmart as a produce associate. He developed an interest in manufacturing because he wanted to try something new and focus on work that made a difference along with being able to work with team members on the job. 
Since completing M2K Nizeer has been hired by Jennison Machine Group,where he has been serving as a press operator and working on assembly.
During his time in the program, Nizeer completed seven National Institute for Metalworking Skills (NIMS) projects and earned three credentials. His advice to future M2K trainees is "yes you'll make mistakes, but practice makes perfect".
Meet Ryan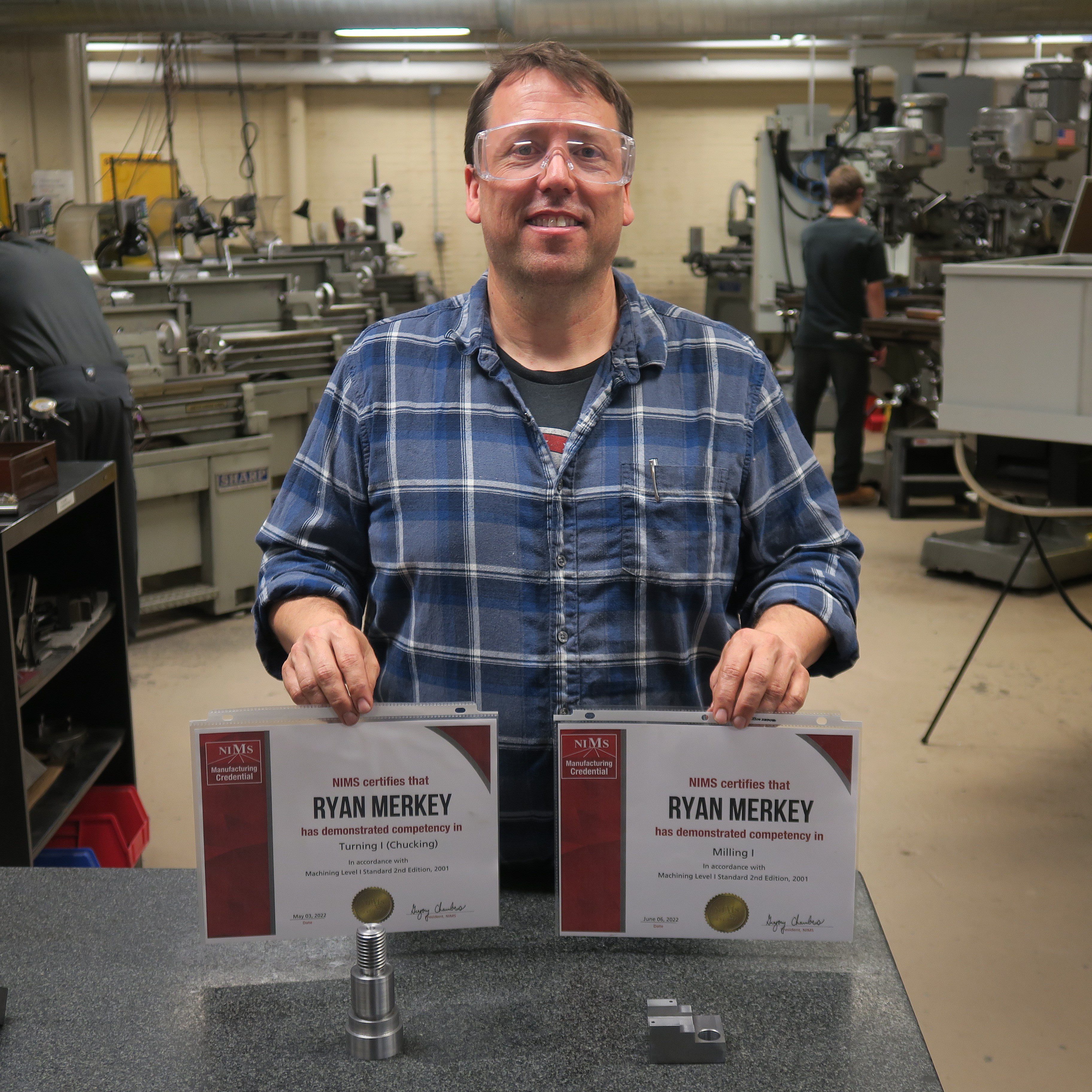 Ryan previously held a career in Environmental Consultation in the western portion of the United States. After moving to Pittsburgh, he saw an ad for tuition-free machinist training and decided to enroll in the M2K program. 
During his time in the program, Ryan earned seven National Institute for Metalworking Skills (NIMS) credentials along with a Certificate of Special Merit. 
Upon completing M2K, Ryan has started working at Union Electric Steel, a division of Ampco.
Meet Thelisa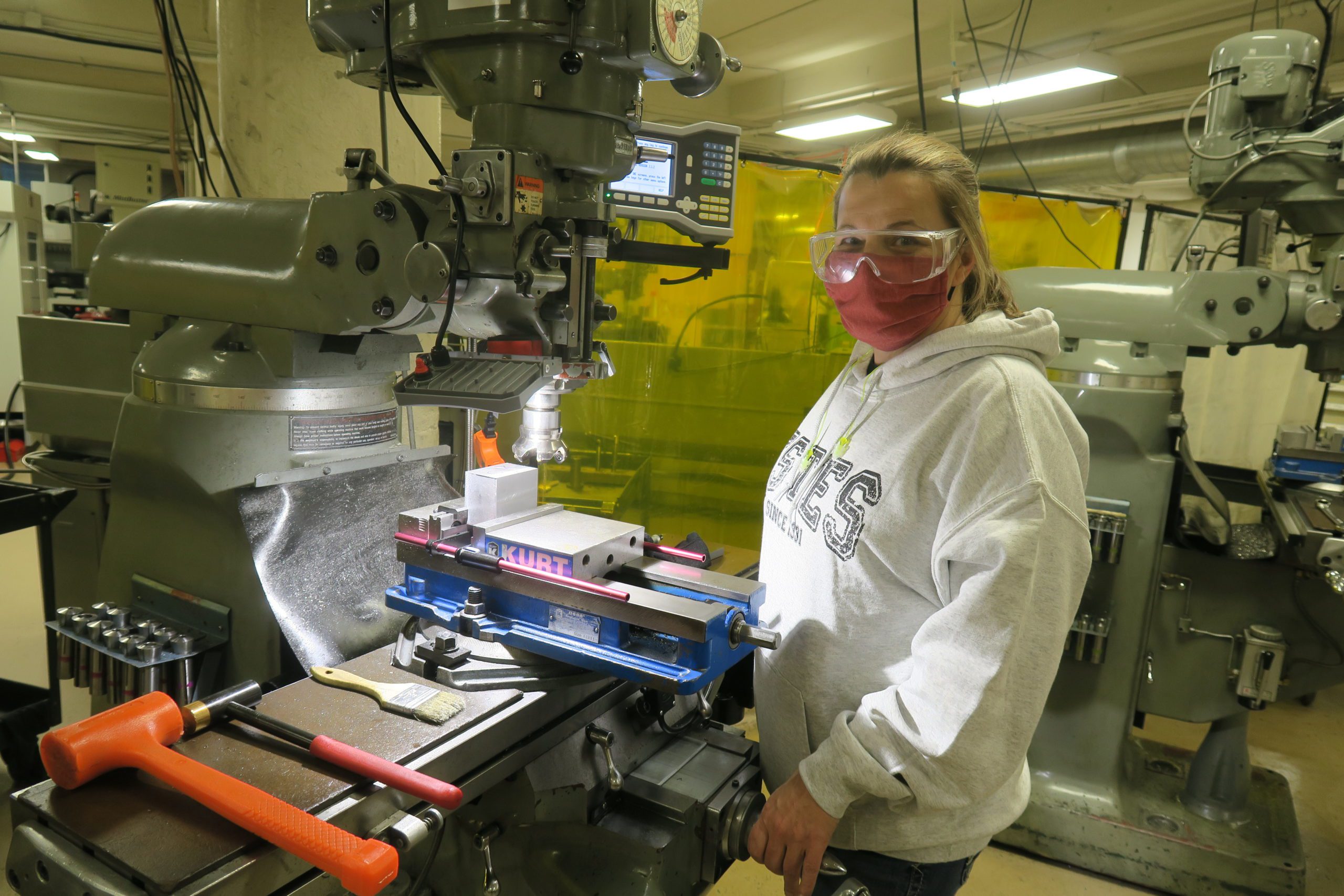 Before enrolling in the M2K Program Thelisa was managing machinists at VEKA Inc. in Butler County. She heard of NCC through her employer and was interested in getting a better understanding of what machinists did so she joined the M2K program. "My intention was to be able to perform the tasks that my machinists do," said Thelisa. "I enjoyed the hands-on because you start understanding more of machining when you start learning the programming of it."
Meet Jamie
Talk about a career change!  Jamie decided after 10 years working in child care that she needed a career with growth potential, family wages and hopefully benefits, too, to raise her children. She learned college wasn't for her after changing her major three times. 
While exploring options, a community college career counselor introduced her to New Century Careers.  A tour of the NCC training center convinced her to apply and enroll in machinist training.  "I didn't even know exactly what machining was but I liked the technical aspects and enjoyed working with my hands," Jamie said.  After four months of training, 38-year-old Jamie was ready for her first job in manufacturing.  
New Century Careers staff assisted her with her resume to apply at Aerotech, Inc. in O'Hara Township.  After on-the-job training, she now is a CNC operator.  She emphasizes that "NCC gave me the basics. At NCC, I had already worked on a manual mill and had some CNC exposure. My current job requires focus and I enjoy it, which makes the days go faster."
She encourages women to seriously consider the field. Jamie says, "In my previous job, I had little money, no advancement potential and no 401K.  I have all that now at Aerotech."  She adds, "Plus the job is a good fit for someone like me.  I am not big and strong but I'm good at math and working with my hands." Also Jamie believes women bring a different perspective to the workplace.  
"My training at New Century Careers offered opportunities I wouldn't have had otherwise. It changed my family's lives forever."  
Meet Dominick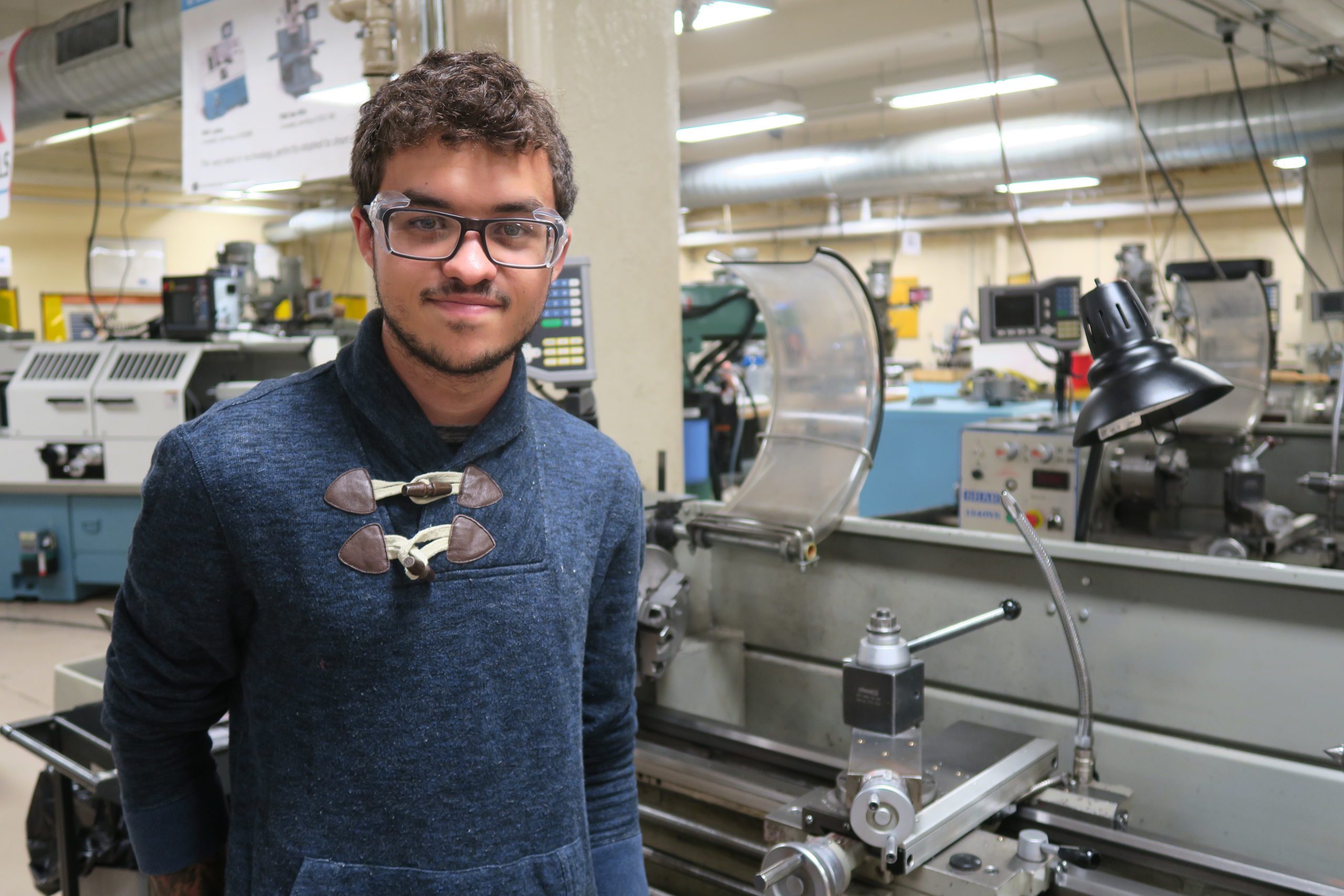 Dominick Rucker's story is a prime example of the New Century Careers pathway to a promising career in the ever-evolving manufacturing industry.
Dominick was introduced to NCC as a participant in the BotsIQ program at Chartiers Valley High School. Following graduation he completed a semester at Community College of Allegheny County but preferred working with his hands as he did during Bots IQ.
Dominick enrolled in NCC's Manufacturing 2000 and never looked back! Upon completion of the program he was hired as a machinist at Santucci Process Development, Inc. in McKees Rocks, where he started his apprenticeship. Two years later, he moved to CP Industries in McKeesport where he is currently a maintenance machinist working in the metallurgical heat treatment area.
His new employer established a Group Sponsored Apprenticeship Program with NCC so that he could continue his apprenticeship. CP Industries was very engaged and, though not required, even credited Dominick with the 4,000 hours of on-the-job training from his previous employer. He aims to earn his journeyman papers and possibly explore drafting and engineering in the future.
Dominick encourages anyone who is seeking a solid career opportunity to contact New Century Careers!