Partnering to Strategically Support Manufacturing
Through a unique strategic public-nonprofit partnership with TRAK Machine Tools, New Century Careers launched the next iteration of regional post-COVID recovery for the industry.
TRAK Machine Tools is an industry leader in innovative products for machinists' productivity.
At the Pittsburgh location, TRAK will offer regional manufacturers and TRAK prospects and customers in central and western Pennsylvania, West Virginia, and eastern Ohio demonstrations of TRAK machines and comprehensive support for TRAK® and ProtoTRAK® products performed by factory direct personnel.
Companies visiting the showroom also will be introduced to New Century Careers training programs and Job Shop, which provides parts for prototype to small batch production runs.
Showroom Brings Cutting Edge Machines to Region
The Pittsburgh showroom expands upon the TRAK equipment New Century Careers currently utilizes for its onsite training programs including the DPMRX3 Bed Mill, 1845RX Lathe, the 2op-M11 Portable VMC, and the new VMC5, introduced by TRAK in March of 2020.
The TRAK VMC5 is a full-featured 3-axis machining center to run low volume production while running in "Production Ops." The machine delivers powerful capability with an easy-to-use interface. With the flip of a keyed switch, the operator can enter into Toolroom Ops™ and the VMC works like a TRAK DPM, only with an enclosure that keeps chips and coolant contained.
TRAK VMC; Vertical Machining Center; ProtoTRAK RMX control; 8,000 RPM; Cat 40; 16 Station tool changer; Travel range of X=20", Y=16", Z=20"
TRAK DPRMX3; Vertical Bed Mill; ProtoTRAK RMX Control; Cat 40; 5,000 RPM; X=31.5", Y=17", Z=25.812"
TRAK 2op M11; Portable Vertical Machining Center; ProtoTRAK TMX Control; 10,000 RPM; BT30; Travel Range X=14", Y=12", Z=17"
TRAK 1845RX lathe; ProtoTRAK RLX Control; 8" 3-Jaw chuck and 5C Collet system; 8 Station turret; 2,500 RPM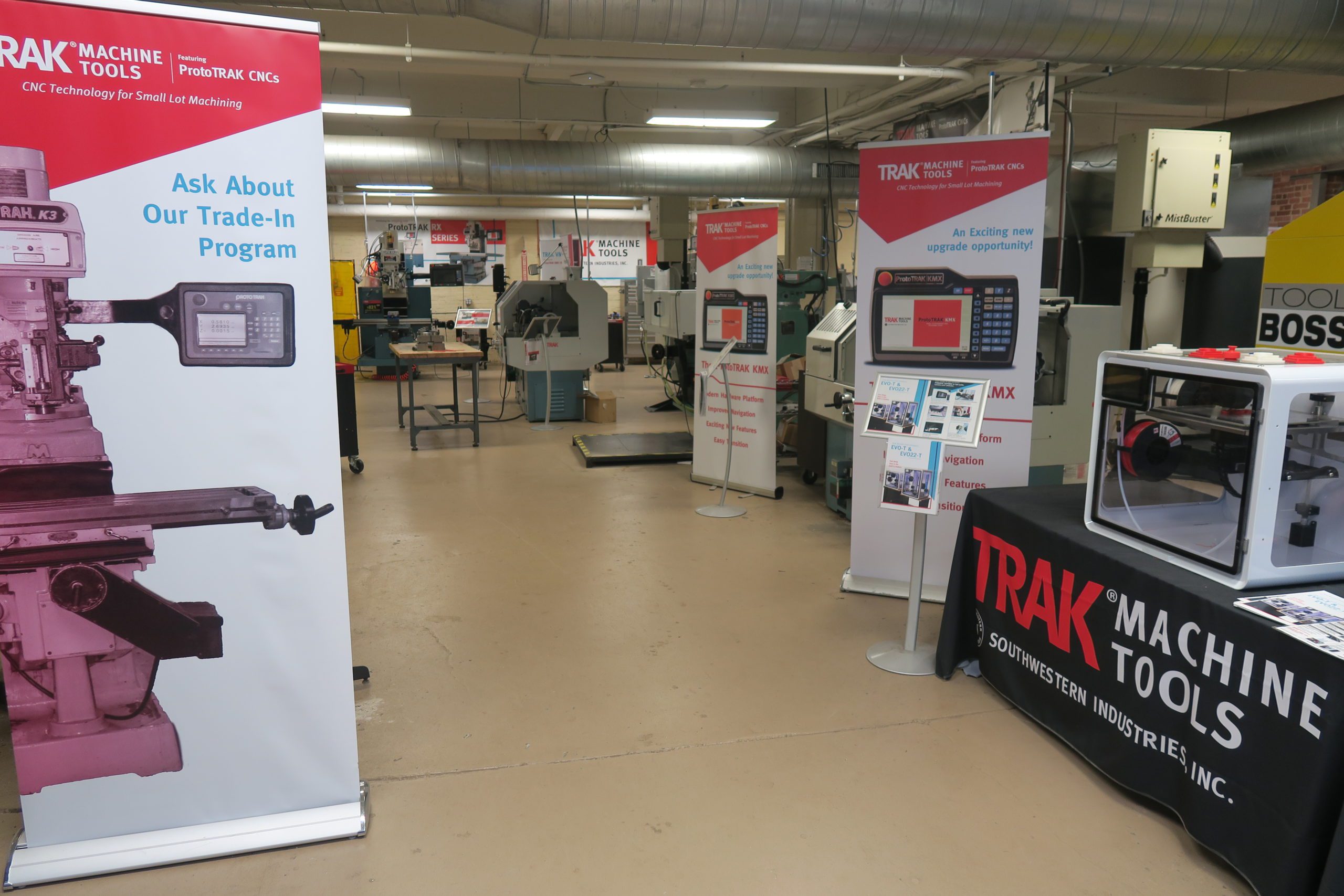 Schedule a Visit Today!
To plan a showroom visit and equipment demonstration, call Anthony Cicero at 310-608-4422. To schedule a TRAK Field Service Technician, call 800-367-3165.